The food system is responsible for 30% of human-made greenhouse gas emissions and 70% of freshwater withdrawals. Feeding Bangladesh's rapidly growing population has led to land conversions, and unstainable food production practices cause biodiversity losses and land degradation. The increased incidence of food-borne illness due to biological, physical, and chemical toxins is threatening to overburden our health system. There is also a rapidly emerging double burden of malnutrition of obesity, and hunger. Within the supply chain, there are concerns regarding human rights violations and farmers facing poverty due to low wages.
"Class aptent taciti sociosqu ad litora per conubia nostra, per inceptos himenaeos .Aenean non turpis vitae ligula tristique sagitt isras varius erat pulvinar eros pretium"
There are number of actions that need to converge to change the trajectory of our food system. These will require continuum of interventions from the Government, Civil Society, UN Agencies, and the Private Sector. At CaST Network, we are well placed to support organizations that are acting towards food system transformation. Our director, Syed Muntasir Ridwan, was the Country Coordinator for Scaling Up Nutrition (SUN) Business Network (SBN) in Bangladesh and has played an instrumental in building an ecosystem to harness private sector initiative to improve the nutritional outcome of the food system and supported the multistakeholder dialogue for transitioning the food system of Bangladesh towards a sustainable path. At CaST Network, we aim to support our client to contribute towards building stronger systems and use our expertise in rigorous quantitative, behavioral, social and economic research to enable our clients to take informed and evidence-based approach in tacking the food systems challenges.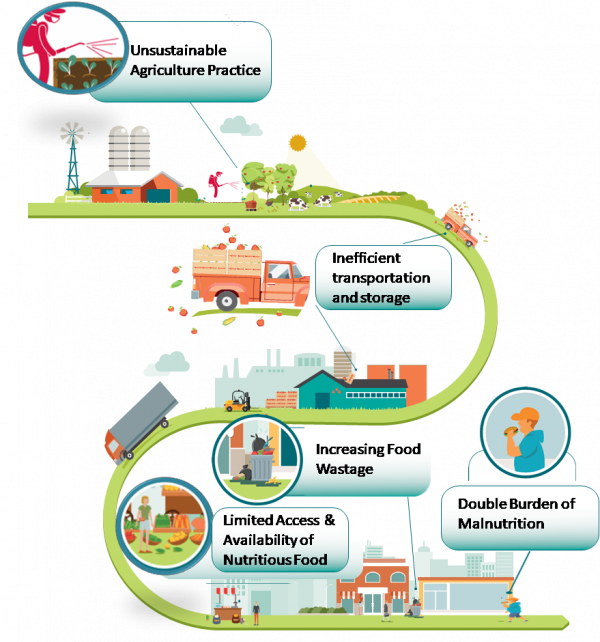 Problem: GHG Emissions and Fresh Water Depletion
Solution: Designing low-cost technological innovation in agriculture and water management
Problem: Biodiversity loss and land degradation
Solution: Design to scale up commercially viable regenerative agriculture particularly permaculture design
Problem: Food Safety problem across Food Chain
Solution: Design policy mechanism to regulate toxins and consumer behavior driven food safety control approach 
Problem: Inequity in farmers income
Solution: Redesign market systems and technological innovation for increased productivity and income of farmers